A mattress as unique as you
The digital measurement calculates your sleep profile.
Core, shoulder zone, moons and inlay determine the composition
of your unique YUNO mattress.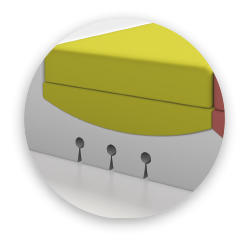 The YUNO mattress core consists of Naturalis foam. This is a cold foam based on ecological oil from the castor plant. This oil is used in ther medical world for its antibacterial and anti-fungal properties.
Three "moons" in the mattress core provide an initial differentiation at the level of shoulders, waist and hips. The end point for other mattress brands. Only the first step for YUNO.
3 pads merged into 1 inlay, refine the adjustments
that were initiated by the moons. The combination put together for you of pads and moons
at the height of the shoulders, waist and hips, guarantees a 100% correct sleeping position.
The right pillow is also essential to obtain a correct sleeping positionYour cervical vertebrae must be in line with your vertebrae, in both supine and side position. The YUNO algorithm determines the correct height of your pillow. We distinguish several variants that differ in height and ergonomics.
729 options for your custom inlay
The inlay takes weight, height, but also age, gender, sleeping position, width of hips, waist and shoulders and the bottom used into account. The inlay is adjustable and can be replaced at any time. With body changes such as weight gain or loss, adjust the inlay in your mattress to your body profile. That's the only way to lie down 100% correct.
This is the only way to lie 100% correctly
In all other mattresses the hips are kept low and the shoulders lifted.
Member of a health insurance fund?
Do you have a health insurance? Then enjoy a special discount when purchasing your mattress. Discover your sleeping profile and compose your personal mattress in the health care shop of your health insurance fund.
During the first hundred days after delivery of your new mattress, all adjustments proposed by our physiotherapist are free. You can then enjoy our quality guarantee for no less than a hundred months. This guarantee is degressive. For the depreciation table, click here.
Experience a 100% correct sleeping position yourself?
Test the YUNO mattress in 1 of our advice points: Goed Thuiszorgwinkel, OZ Shop, Medishop De Voorzorg, Orthoshop, ... Make an appointment with a YUNO advisor to measure your sleep profile.
Safe measurement and test lying in corona times
To measure safely to obtain the correct inlay for your mattress, come with your partner, a close friend or someone from your family circle. He or she will measure you according to the instructions of the YUNO advisor.